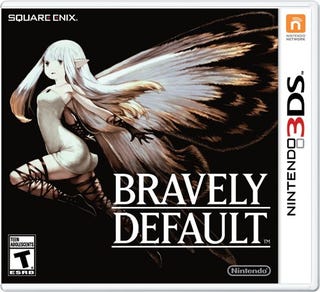 So I had pre-ordered Bravely Default from Amazon on January 15 (ETA: with free two-day shipping). Today, I had the inclination to check and make sure that it would be here on release date. To my surprise, my account listed a delivery date of Feb. 11, when the game is supposed to be released on Feb. 7. At first I figured this was a mistake, or Amazon performing CYA in case it showed up later than anticipated. But then, when I went to the product page, I found this:
This item will be released on February 7, 2014.
Pre-order now.
Ships from and sold by Amazon.com. Gift-wrap available. Want to receive this the day it comes out?
Order within 6 hrs 30 mins and choose FREE Two-Day Shipping at checkout.
Surely those who are ordering today should not be receiving an earlier ship date than I am? So I decided to check in with Amazon customer service chat. Well, as you can expect, this was a huge waste of time (nearly two hours), and ultimately led to what I suspected, which is that I would have to cancel my previous order and re-order to receive the better ship date. Obviously this solution is absurd, and it is a lesson to me to be wary of pre-ordering from Amazon in the future.
In the meantime, I had the pleasure of chatting with a clueless CS rep who was clearly making things up on the fly, which is always fun. He said, amongst other things, that the February 7th ship date was impossible to meet because they had to package the item and find a carrier (I guess it takes a few days to choose between UPS and FedEx).
Anyway, I do feel that if I order nearly a month ahead of someone else, that I am entitled to receive the same or better priority in shipping. So if you, like me, pre-ordered Bravely Default, I would highly suggest you check your order and ensure you have the Feb. 7 ship date, as Amazon will prioritize their shipping processes based on estimated delivery date in my experience. The full CS chat transcript is below.
UPDATE: The premise of this article is that if two people order a game, with identical shipping speed/options, but one was ordered before launch day shipping is implemented on the item, and one ordered after, then the former orderer should receive the same shipping priority as the latter. This is due to notions of fairness and first-come-first-served which are prevalent in American culture. If you disagree with this premise, I'd love to hear why.
Hello,

Here's a copy of the chat transcript you requested:

Initial Question: Delivery date confused

ORDER #

09:13 PM(GMT) Me: Hello
I am confused my delivery date for the above order
09:13 PM(GMT) Rep 1: Hi , my name is , I am happy to help you track your orders.
09:13 PM(GMT) Me: The webpage for the item says "This item will be released on February 7, 2014.
Pre-order now.
Ships from and sold by Amazon.com. Gift-wrap available.
Want to receive this the day it comes out?
Order within 6 hrs 47 mins and choose FREE Two-Day Shipping at checkout."
I pre-ordered with 2 day shipping, and my delivery date e-mail says Feb. 11
Do I need to cancel and re-order to get it Feb 7?
09:14 PM(GMT) Rep 1: May I have your order number please?
09:14 PM(GMT) Me: It is above

ORDER #
09:14 PM(GMT) Rep 1: Please give me a moment to check your account.
09:16 PM(GMT) Rep 1: Thank you for waiting.
09:17 PM(GMT) Rep 1: As I see it in your account the item that you have pre-orderd is not yet released
09:18 PM(GMT) Me: Yes, the question is regarding Feb. 7 vs. Feb. 11 and whether I need to reorder to receive it on Feb. 7
As the website says Feb. 7th, but my e-mail says Feb. 11
09:19 PM(GMT) Rep 1: Give me a moment to check the email that was sent to you.
09:23 PM(GMT) Rep 1: Thank you for waiting. As I see it here , the latest email that you have was February 3,2014 .You have a estimated delivery of the item on February 11,2014.
09:24 PM(GMT) Me: So, how do I receive the feb. 7 delivery date, as the webpage indicates:
This item will be released on February 7, 2014.
Pre-order now.
Ships from and sold by Amazon.com. Gift-wrap available.
Want to receive this the day it comes out?
Order within 6 hrs 40 mins and choose FREE Two-Day Shipping at checkout.
09:28 PM(GMT) Rep 1: I understand, however once the item is available it takes few days to process for the delivery .
09:28 PM(GMT) Me: It says "Want to receive this the day it comes out?", which is Feb. 7. How do I receive it the day it comes out
09:29 PM(GMT) Me: Do I need to cancel and re-order?
09:29 PM(GMT) Rep 1: Don' you worry since the item is available now I guarantee you that you will receive the item on that date. I will follow-up on this order.
09:30 PM(GMT) Me: On Feb. 7?
09:33 PM(GMT) Rep 1: As far as as I want to , but it is not possible to have that on February 7 since we need to prepare the object for shipping,but I assure you, I will keep on eye on this order.
09:33 PM(GMT) Me: If it is not possible, then why does the website say "This item will be released on February 7, 2014.
Pre-order now.
Ships from and sold by Amazon.com. Gift-wrap available.
Want to receive this the day it comes out?
Order within 6 hrs 40 mins and choose FREE Two-Day Shipping at checkout."
09:34 PM(GMT) Me: Can I quote you as saying that it is not possible to deliver on February 7th?
Because then you would be misleading shoppers
09:35 PM(GMT) Me: Because it says "receive this the day it comes out"
Which is february 7
09:39 PM(GMT) Me: Are you still there?
09:41 PM(GMT) Rep 1: I understand that the release date of the item is February 7,2014. And we need to pack the item and get it to the manufacturer and look for the carrier to deliver in your place.
09:42 PM(GMT) Me: I don't understand that.
Do I need to cancel and re-order to get the Feb. 7 guarantee or not
09:47 PM(GMT) Rep 1: To tell you honestly, if we will cancel the items right now I am not so sure if there is a change with the delivery date and I am afraid that you will not get the item,if the item is in demand.
09:48 PM(GMT) Rep 1: That is the used of making pre-order you will be secured to get the item at first.
09:51 PM(GMT) Me: Thanks for your honesty. This should really have been an easy question. Amazon guarantees video games on release date. It seems you are making these things up about packaging and finding a carrier. Normally the game is received from the publisher in advance of the release date, so that Amazon can deliver it on release day. If the Feb. 11 date is just in case it is late, then you should just say that. But I think you don't know and started making things up.
That's just being honest
09:53 PM(GMT) Me: I have made a duplicate order of the item
It says: "Delivery estimate: February 7, 2014 Price
1 of: Bravely Default - Nintendo 3DS [Video Game]
Condition: New
Sold by: Amazon.com LLC
$39.96
Amazon Prime: Two-Day Shipping is free
- 1 item(s) Gift options: None Change gift options"
So if I order now I get February 7
09:54 PM(GMT) Me: but because I pre-ordered I have to wait until Feb. 11?
Can you please escalate this to a supervisor
09:56 PM(GMT) Rep 1: Please give me a few minutes to addressyour concerned.
09:58 PM(GMT) Rep 1: Okay here is what I can do I can transfer you to our generalist team , to address your concern best
10:00 PM(GMT) Rep 2: Hello, my name is. I'll be glad to help you today.

Hello, would you like me to transfer our chat to my supervisor?
10:01 PM(GMT) Me: Yes please
10:01 PM(GMT) Rep 2: Please allow me a moment.
10:04 PM(GMT) Rep 2: This is taking longer than expected, could you please be on hold for another 2 minutes while I check this for you?

10:04 PM(GMT) Me: OK
10:05 PM(GMT) Me: Perhaps you can just answer the question I have?
Which is, related to order #
10:06 PM(GMT) Me: The issue being that I have an estimated delivery date of Feb. 11 for my pre-order placed on January 15. But if I order now, I get a delivery date of Feb. 7
10:06 PM(GMT) Rep 2: I have checked the item and see that the Estimated Delivery Date: Tuesday, February 11, 2014.
10:06 PM(GMT) Me: Why I am receiving a later date than those who order now?
10:06 PM(GMT) Rep 2: Once the item is released you will receive the order on the above mentioned date.
10:06 PM(GMT) Me: And how can I get the Feb. 7 delivery date
10:07 PM(GMT) Me: So in order to receive the Feb. 7 delivery date, must I cancel my pre-order? Then re-order today?
10:07 PM(GMT) Rep 2: Okay,let me check if I can change it to the release date.
10:07 PM(GMT) Me: Because that doesn't make sense
10:12 PM(GMT) Rep 2: I have tried to change the delivery date of your order and I am unable to see the
Estimated delivery: Feb. 7, 2014.
Please allow me a moment to help you on this issue.
10:18 PM(GMT) Rep 2: Thank you for being on hold.
I have checked it from my end and see that if you place an order for your address you would receive it on
Estimated delivery: Feb. 7, 2014 (the day it's released)

10:19 PM(GMT) Rep 2: You could cancel the current order and place a new order and you would see the release date delivery date as estimated delivery date.
10:21 PM(GMT) Me: OK. I will do so. Thank you for checking on this. But I have to ask, why would anyone ever pre-order anything from Amazon if the release date will be later? I don't think I will pre-order in the future because of this.
10:24 PM(GMT) Rep 2: I'll forward your comments to the technical teams, as they'd want to know about the experience our customers are facing and make sure not to happen this again.
We certainly did not expect this to happen.
10:25 PM(GMT) Me: Thank you very much. Goodbye.
10:25 PM(GMT) Rep 2: Your are welcome, Thanks for your patience and understanding.

10:26 PM(GMT) Rep 2: Is there anything else that I can help you with?

10:26 PM(GMT) Me: No